Författare:
Per Stenebo
Skapad:
2014-07-12 09:11:19
Ändrad:
2018-12-24 09:06:39

Hum. & Temp. sensor - RHT03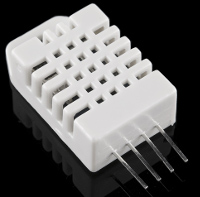 Beskrivning: The RHT-03 is a low cost humidity and temperature sensor with a single wire digital interface. The sensor is calibrated and doesn't require extra components so you can get right to measuring relative humidity and temperature.
Features:
• 5V Input
• 1-1.5mA measuring current
• 40-50 uA standby current
• Humidity from 0-100% RH
• -40 - 80 degrees C temperature range
• +-2% RH accuracy
• +-0.5 degrees C
Kommunikationen sker med MaxDetect 1-wire bus (till skillnad från Dallas 1-wire bus).
| Sparkfun |
Installation på Raspberry Pi Rev. B med Raspian OS
git clone https://github.com/adafruit/Adafruit_Python_DHT.git
cd Adafruit_Python_DHT
sudo apt-get upgrade
sudo apt-get install build-essential python-dev
sudo python setup.py install
Test
cd examples/
RHT03 verkar vara en förbättrad version av DHT22. Datapin ansluten till GPIO #17 (pin P1-11).
sudo ./AdafruitDHT.py 22 17
Efter några sekunder kom svaret: Temp=23.1*C Humidity=54.9%
Alternativt:
sudo python ~/Adafruit_Python_DHT/examples/AdafruitDHT.py 22 17
Fel
Failed to get reading. Try again!
Kommunikationen med MaxDetect 1-wire bus är tidskritisk, är processorn lite för upptagen när fråga skickas misslyckas kommunikationen.